WELCOME WORDS
The Marin real estate market remained heated for Q1 2022. While spring blooms and fair weather are abundant, high demand and low supply remain.
240 Cleveland Ave | $1,635,000
2bd/1ba home with a detached 1bd/1ba cottage.
SAVORY SCONES
Michelin Star chef, Matthew Accarrino, shares his (no-longer-secret) recipe for a light n' savory delight.
The Depot Plaza - an abbreviated history from the 1880's to modern times. Which configuration/use is your favorite so far?
MARKET STATS - MARIN Q1 2022
Happy Springtime to All!
A common subject that I've been asked about lately is the effects of rising interest rates relating to the real estate market. So far, we've seen an almost 50%+ spike in mortgage interest rates since 2022 began.
Compass' Chief Market Analyst, Patrick Carlisle, shared this thought; m
ost analysts believe that if rates remain this high (much less continue to tick up), the enormous jump in housing costs (home price appreciation + interest rate increases) will significantly affect the market. I would tend to agree with this, especially if rates continue to rise. Time will tell.
Have a real estate question? Reach out any time and I'd be happy to chat -> 415-609-7972.
240 Cleveland Avenue, Mill Valley
(Almonte Neighborhood)
I would like to congratulate my clients on the sale of their delightful property. Their pride of ownership really showed and helped showcase their 2bd/1ba home with a detached 1bd/1ba studio cottage.
| | |
| --- | --- |
| The features that many visitors liked were similar; the main living space's open flow and contemporary kitchen design, the outdoor living space of the large deck and greenery, and the cozy and convenient detached studio cottage. | |
Price $1,635,000

+/- 1,084 sqft.

2bd/1ba main home w/ detached 1bd/1ba cottage

Listed By:

Dana Williams

of Compass
If you know me, you know I like to spend a little time in the kitchen. When my good friend, chef Matthew Accarrino (Executive Chef
- SPQR San Francisco), dangled his fresh baked scone in front of me, I couldn't say no. In my mouth it went, then out came "I need the recipe!" Now you can try to replicate the delicious treat he has me hooked on. Enjoy!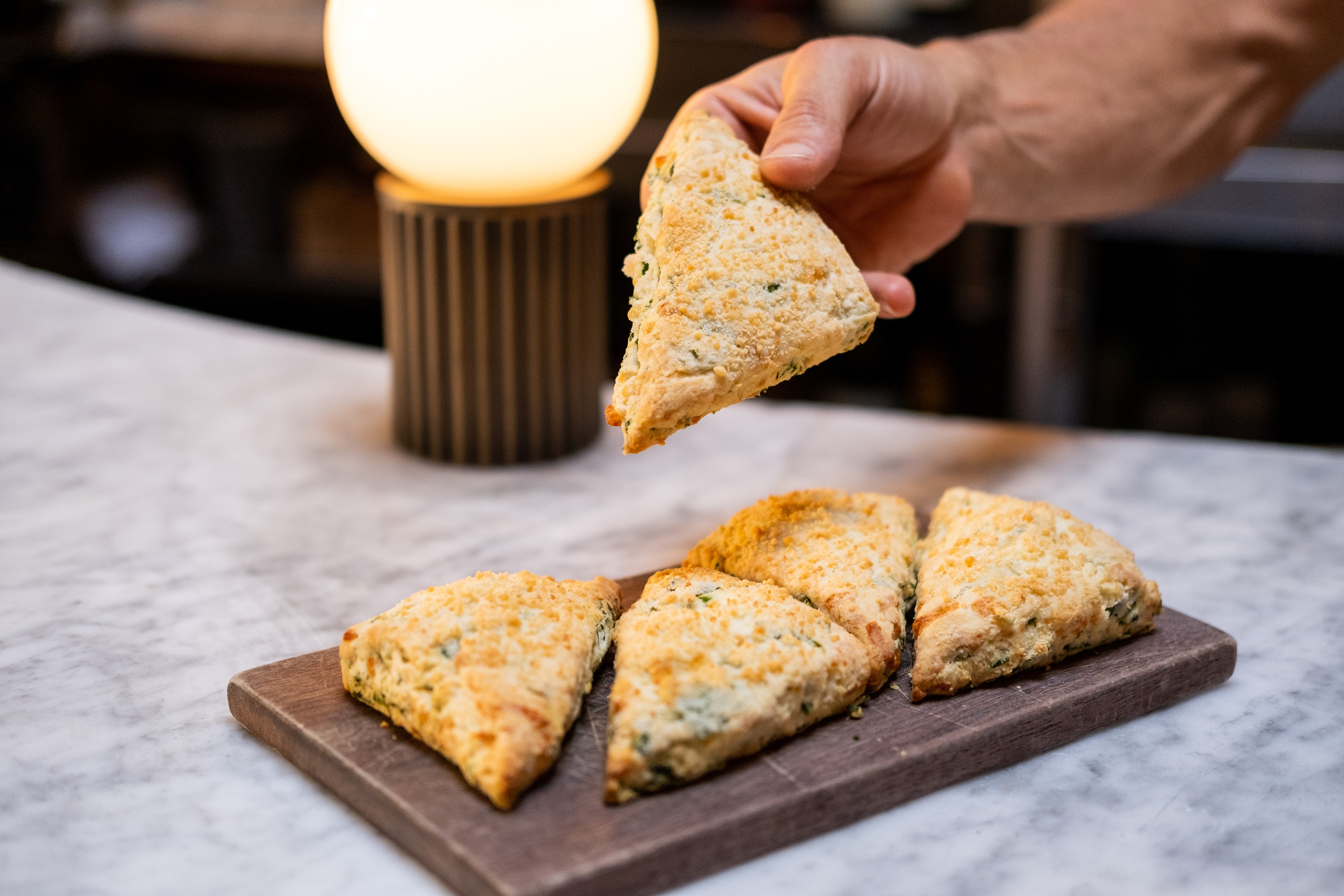 BAKING INSTRUCTIONS

Preheat oven to 375°

Combine dry ingredients and work in

butter using the biscuit method.

Mix/beat eggs and combine with

cream. Stir in the additions to the

liquid, then mix them into the dough. Be

careful not to overwork the dough.

Roll dough onto a floured surface to

create a 1 inch high mass. Cut the

dough into equally sized triangles. Place

the triangle shaped dough onto a flat

baking surface spaced 1-2 inches apart.

Place into the oven and bake at 375° for

about 10-12 minutes or until the dough is

golden brown.

Substitute flour with your choice of a 1:1

ratio gluten free all-purpose flour.

SWEET VARIATION:

Substitute savory ingredients with any

of the following: chocolate chips, fruit and nuts.
610 gm

All-Purpose Flour

1

00 gm

Granulated Sugar

(or a sugar of your

preference)

227 gm

Unsalted Butter,

(diced and cold)

453 gm

Heavy Cream (or

substitute with

Buttermilk)

1

00-150gm

Grated Cheese of

your choice

200 gm

Tuscan Kale

(blanched,

shocked, wrung

dry, then chopped)
MICHELIN STAR CHEF MATTHEW ACCARRINO'S unique culinary style draws inspiration from his Italian heritage, personal experience and classic training with some of America's best chefs. He combines this with a bounty of opportunities of local California ingredients, resulting in an intensely personal cuisine that is both technically polished and soulful. This has garnered praise from publications includingFood & Wine, The New York Times,Bon Appetite and others. Under his direction, the SQPR restaurant (onFillmore St) has been awarded aMichelin star every year since 2012.

www.spqrsf.com
I created this series to showcase the many aspects of Mill Valley that I (and many others) have become fond of while living, working and raising a family here.
From trains, to buses and eventually bricks & benches. The beloved Mill Valley Depot Plaza has had an interesting mix of uses so far. I have to say though, the current configuration is possibly my favorite.
| | |
| --- | --- |
| Back in the 1880's it was known as the Eastland Mill Valley Train Station which served the North Pacific Coast Railroad. Some years later, the "Eastland" identity was changed to Mill Valley Depot. Over the next few decades the original structures were moved and renovated along with the iconic trains giving way to Greyhound buses. By the 1970's Ganey's Bookstore & Cafe occupied the main building in the plaza and remained there until the late 1980's. | |
| | |
| --- | --- |
| | Around approximately 1987 the familiar identity of "The Depot Bookstore and Cafe" was adopted. A restored gravity car, renowned in its day, takes first position of this post. Starting in 1896, thirty of these were joined together to take thousands of adventurous visitors from the town center all the way to Mount Tam's summit; this was known as The Mount Tamalpais Scenic Railway or "The Crookedest Railroad in the World," Reaching the summit was exhilarating, but the return back down to Mill Valley was arguably more thrilling, with only a brakeman to control the roller-coaster descent. |
| | |
| --- | --- |
| | |
© Compass 2022 ¦ All Rights Reserved by Compass ¦ Made in NYC
Compass is a real estate broker licensed by the State of California operating under multiple entities. License Numbers 01991628, 1527235, 1527365, 1356742, 1443761, 1997075, 1935359, 1961027, 1842987, 1869607, 1866771, 1527205, 1079009, 1272467. All material presented herein is intended for informational purposes only and is compiled from sources deemed reliable but has not been verified. Changes in price, condition, sale or withdrawal may be made without notice. No statement is made as to accuracy of any description. All measurements and square footage are approximate. Equal Housing Opportunity.